Why Our Clients Love Us!
Why Our Clients Love Us! Client Testimonials at Stephen Young Salon
We love hearing from our clients and appreciate all feedback, constructive criticism helps us to improve and provide the best service for you!
If you've never visited Stephen Young Salon in West Wimbledon before, check out some of our client testimonials below to see what others have experienced in our salon!
Clients Love Our West Wimbledon Salon
Wimbledon
Raynes Park
New Malden
Wimbledon Village
Enthusiastic and Professional Stylists at Top West Wimbledon Salon
Our team are all highly skilled and genuinely love what we do.
We are hugely passionate about creating fabulous hair and delivering five star customer service from our luxurious salon.
One of the best parts of our job is seeing our clients enter the salon unhappy with the current condition, colour or style of their hair and then seeing their enormous smiles when we reveal their finished look!
It's so rewarding for us to see these reactions and to receive such positive feedback from clients makes what we do feel so worthwhile.
To find out more about our team and see which stylist you feel may be your best fit visit our team pages HERE.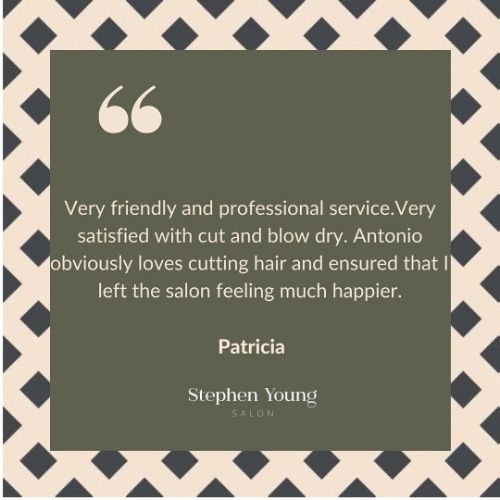 "Best Haircut in 50 Years!"
At Stephen Young Salon in West Wimbledon, the client experience is our top priority.
Whether you've been to the most famous hairdressing salons with world famous stylists, or if you've never had a "proper" salon experience before, we will give the same professional, warm, caring and in depth service to all - our 5* service speaks for itself!
No matter your hair concern, we will take the time to really understand what it is that you want from your hairstyle, hair colour or hair treatment with us.
Our consultations are designed to help us plan out your Stephen Young hair journey in a sympathetic and relaxed manner. To book your consultation at the top hair salon in West Wimbledon use our handy online booking tool or call us on 020 8946 5120.
Covid Safe Salon in West Wimbledon
We take the safety of our clients and team very seriously at our salon and work hard to ensure that we are the COVID safe salon in West Wimbledon.
Since re-opening the salon following the lockdown we have put a number of measures in place to provide you and our staff with the safest environment possible. These include:
Perspex screens in between each section and backwash chair
We are a cashless environment
Mandatory face coverings for all staff and clients (disposable face coverings can be provided if necessary)
Only pre-booked appointments are available
All staff members have received extensive training in the highest safety and hygiene practices and procedures
To find out more about our COVID safety precautions, please read more about our measures HERE.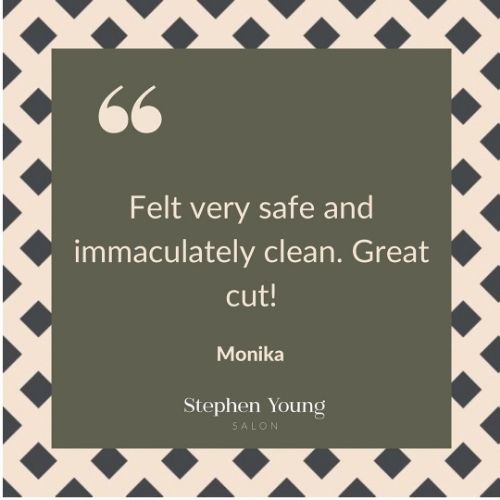 Book Your 5* Hair Appointment at Stephen Young Salon in West Wimbledon
Our client feedback helps us to improve and consistently provide an excellent service for our clients, both old and new. Book your consultation today with the experts at Stephen Young Salon in West Wimbledon by calling us on 020 8946 5120.
If you are a client and would like to leave us a review, we'd love to hear from you! Please visit our salon reviews page to let us know how we did.